The pandemic has dragged on and on for so long now and one thing that I do miss a lot would be our traditional Chinese full course sit-down banquet.
In Hokkien, we call it "ciak chiew" (direct translation: eat wine) even though a teetotaller like me would not touch a drop, that's for sure. In the old days, there would be a bottle of brandy (V.S.O.P) on every table and some bottles of beer and soft drinks for anyone thus inclined to help themselves. At the current prices of those hard liquor these days, we do not get to see that anymore.
Way back then, there would be 12 courses, at least, the last two being our traditional Foochow sio bee (meat dumplings)…
…and Foochow fried noodles…
…because many of the guests, usually all in the family, lived very far in the interior (sua par – direct translation: jungle) and the mode of transport being not very well developed in those days, it was considered as having good manners to make sure that they would not go hungry on the way home.
The banquet would start with what is called The Four Seasons elsewhere except that here, we would be served a whole lot more than just four…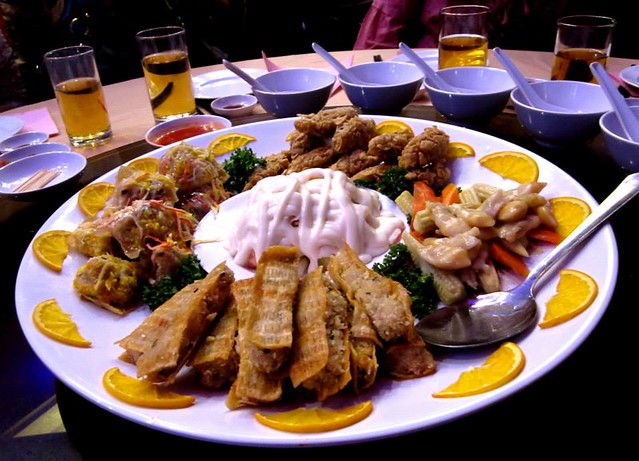 We called it the leng pua (cold dish) as at the time, the selections in the plate comprised cold cuts of meat. I remember specifically the thin slices of char siew pig's tongue – I loved that a lot!
Eventually, somebody came out with the sio pua (hot dish)…
…and since then, diners would have a choice when making the reservations – whether they would want it cold or hot.
The second dish would be the soup and in the old days, it was fashionable to serve sharks' fins soup, the bigger the fins, the more its snob appeal. Of course, that is frowned upon these days so something else is served instead. A popular substitute would be the very nutritious ginseng black chicken soup…
There must be a fish dish, usually very fresh pek chio (white/silver pomfret), steamed but when they did not have any that was all that fresh, they would fry it and serve with some kind of sauce, sweet and sour, for instance…
Personally, I would prefer the fish done this way.
Pork may come next, or maybe, it would be served after the poultry dishes. In the old days, it would always be sweet and sour pork but these days, it may be cooked in other ways…
Other than the chicken in the soup, there would be a chicken dish. In the old days, it was just roast chicken…
…buried under a whole lot of keropok (prawn crackers) and being a little kid at the time, no prize for guessing what would get all my attention.
A popular alternative and one that would be considered a little bit more special would be the steamed chicken with ginseng and other herbs wrapped in aluminum foil…
The sauce, I must say, is simply awesome and full of wholesome goodness!
Sometimes, you may be served duck instead…
…or in some cases, you may get a combo of the two – chicken and duck in a plate.
There would be a vegetable dish, mixed vegetables (chap chai or what people call chak kin or something like that), perhaps depending on how much one had paid for the banquet. That might come in a yam basket…
…and if one was served a platter of broccoli with huge sea cucumber (and beef tendon)…
…it would be quite obvious that the host had paid quite a substantial sum for the meal.
These days, when the platter of prawns…
…whichever way they may do it, is served, that means that you have come to the end of the dinner.
Dessert in the old days would definitely be the peach and longan combo…
…something that would be long-awaited by the kids at the dinner but these days, you may get a plate of Chinese pancake and a fruit platter…
…instead. That peach and longan dessert is no longer something kids would die for especially now that we can buy them in cans at any supermarket or grocery store and they may end up sitting in the pantry and nobody wants to eat it. Times sure have changed.
The pandemic has dragged on and on and sadly, the end is nowhere in sight. At one time, when dining in was still allowed, they had 5 per table with fewer and smaller servings. How pathetic!!! The way things are going, it sure does not look like we will ever get to ciak chiew and enjoy the traditional full course sit-down Chinese banquet the way we have enjoyed it all our lives ever again.