I took the opportunity to host a dinner party for my cousins and their entourage while they were here on a very brief visit. The Dongzhi (冬至/Winter Solstice) Festival was on the 22nd of December this year but they were leaving town that day. That was why I picked the night before, the 21st, for our get together and of course, for the venue, I chose to have it here as I was very sure they would enjoy the food served…a lot!
In conjunction with the aforementioned festival, I asked for the tang yuan (湯圓) balls instead of the desserts they had on their menu and there were the ones coated with crushed peanut…
If I am not mistaken, I did hear people saying that this is the Sibu Foochow-style dry version, quite unlike those colourful balls served in sweet sugar syrup.
In 2018, I had the opportunity to try the ones that Peter, the Payung boss, made, served with sago pearls in gula Melaka (palm sugar) and santan (coconut milk) soup. That was a little bit like the ginataang bilo-bilò in the Philippines. This time around, he told me he would make these…
…as well. They looked like ondeh-ondeh (kuih Melaka) but they did not have the gula Melaka filling. Inside, there was that same grated coconut with a sprinkling of sugar that was used as the coating on the outside. It really tasted very nice – I thought it came across like putu mayam to me.
So there we were, 21 of us altogether…
…at the buffet table before the feasting began. I also invited my in-laws to join us but my niece, the one working in Singapore, was flying in on the direct flight from the island republic and it was delayed so they arrived a little bit later.
Of course I asked for the kacangma chicken…
…and the Payung fish (ikan keli)…
…both of which were a hit – everybody enjoyed these two dishes so much with generous helpings of rice. The latter was not in the original menu but I specifically asked for it because two of my cousins had that when they were here in 2018 and it was love at first bite!
They also had the belimbing prawns…
…then and they enjoyed the dish so much that even before they came, one of them asked me if they would be having those for the dinner. Needless to say, they loved it too!
Another dish that attracted their attention was the tetek or what they call the tapioca leaves/sweet potato dish in Indonesia…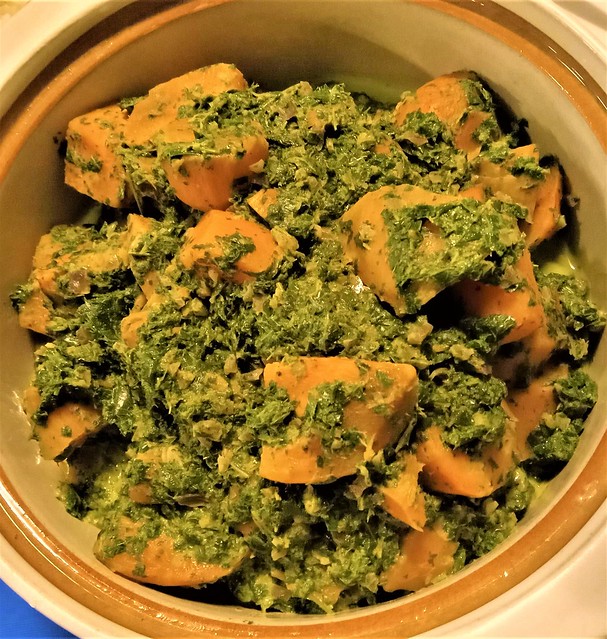 …and indeed, it was very good too! Peter also cooked us his paku (wild jungle fern) in santan (coconut mlk)…
…for us on the house!
No, that's not all! There was also the otak-otak…
…specially made in smaller individual servings and the chicken satay…
…with their own made peanut sauce…
…and we also had another late addition that I requested for, their mushroom roll…
For the salad dishes, we had the Payung rojak…
…and the pomelo salad…
I included their creamy mushroom sauce pasta (in place of the beef bolognese spaghetti since I am off red meat)…
…for the kids in case they were not into those dishes that we all had. I guess nobody else went for that so there was a lot left over and we had to tapao it all home.
I brought the rambutans…
…from the tree behind my house in the garden and I also went to the central market and bought those fruits that not everybody can get anywhere and everywhere – some terbelus (engkala in Malay)…
…and dabai…
…and we had their jelly pisang…
…for dessert.
I brought along the beautiful fruit cake…
…that my cousin from Bintulu gave me the day before to share and everyone praised it to the skies. I had my share of that the first time she gave me some so this time around, I thought I would let the others taste it too. For one thing, it was sweet and I should not indulge in it too much on my own, not when I am on a no/less sugar diet.
I was telling my cousins the night before that I could not wear all my trousers anymore because I had lost so much weight – it would take two of me to get into one! I managed to buy a pair from a bundle stall in the vicinity when I went out for lunch here that day for only RM5.00. It looked extremely small but when I tried it upon reaching home, it fitted me like a glove. Unfortunately, all my belts were way too big so I could not use them with the pants. Well, the next thing I knew, my cousins went to one of the malls in town and got me this branded belt, my first ever…
…and an exercise band, thank you so so much, and passed them to me at the dinner that night!
Gosh!!! We certainly had a lot to eat and obviously, everyone loved all that was served so there wasn't all that much left over for us to tapao home (except maybe, the pasta). They all said that the food at the Chinese restaurant the previous night was awesome, so very good but what we had here was in a league of its own, not available elsewhere. Service was, as always, excellent and we all had a jolly good time, feasting and sitting there chatting, catching up with lost times, thanks so much to Peter and the wonderful people at Payung!
Thank you, all for coming all the way to Sibu. It sure was great to see everybody again and I had a terrific time. God bless, all and take care.
P.S.:
If anyone is keen on holding a party like what we had that night, he or she can refer to this earlier post of mine for more information, especially regarding how to go about it.

PAYUNG CAFÉ (2.284049, 111.833014)…
…is located at No.20F, Lanang Road, Sibu, Malaysia, back to back with the multi-storey car park of the Kingwood Hotel which faces the majestic Rejang River.