That day, after I had bought the shallots at a shop in the vicinity of the Dewan Suarah here, I headed straight back to the car.
Personally, I am not fond of that area, especially the market there as it is always very crowded. Are they different people or the same ones every day? I particularly dislike how they would take their sweet time, stand around chatting with the sellers or their friends, never mind if they are blocking the way…and worse, they do not wait for you to move away first – if there is anything they want, they will cast physical distancing to the wind to just go and grab.
If my friend did not tell me I could get shallots there, I would not have gone there but I sure was glad she did! Why? Well, as I was walking back to the car, I saw these…
…at a vegetable shop a few doors away, all wrapped up in a plastic bag.
Gosh! Who would have thought that they would be selling them in this part of the woods? I can't even remember the last time I had any! I used to buy them at the freshwater prawns stalls at the Sibu Central Market (currently closed as there have been a few COVID-19 cases there) which isn't much better that the one at the Dewan Suarah so of course, I have avoided it like a plague for almost a year now.
These are ikan buris or what we call sai seng in Hokkien, a very sweet, fatty fish, dirt cheap in my younger days but so very expensive now, over RM30 a kilo for the bigger ones. I asked the girl there how much they were selling them for  and Miss Congeniality, she sure wasn't. Maybe she saw that I was so shabbily dressed (as usual) and she thought I could not afford those…so she gruffly replied, "RM26.00 a kilo!" I calmly told her I would take ALL five of them and it probably was just a little more than a kilo and she asked for RM26.00 something. I paid, grabbed the fish and left!
They were not very big but were quite all right. More often than not, it pained me to see them selling those finger-size ones. They should throw them back into the river to let them grow to a reasonable size. Though they are very rare here (probably because the river here is busier), they tell me there are plenty in the smaller towns like Kanowit and Bintangor (though not cheaper). Unfortunately, inter-district travel is not allowed so driving over to buy is totally out of the question.
My girl loves the fish but she is not fond of the traditional ethnic ways of cooking it, as an ingredient in sayur rebus (boiled vegetables) or masak kunyit (cooked with turmeric). She loved it oven-baked wrapped in kunyit leaves with all the herbs and leaves or just deep-fried, plain.
That day, she chose the latter so of course, that was how we had it…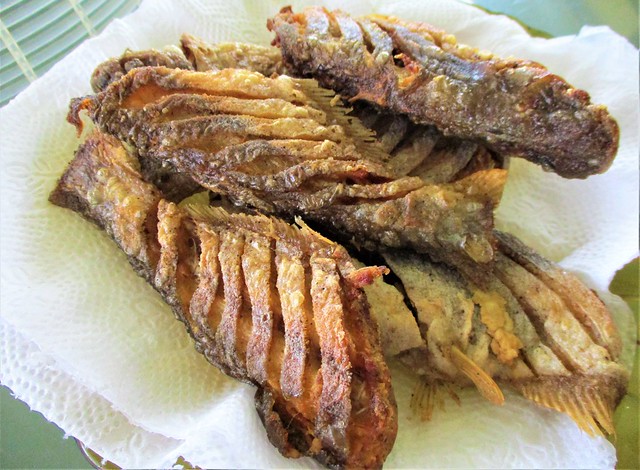 …on our no-meat Friday last week – three of the five and boy, we sure did enjoy it to the max! They were a bit over-fried but that was perfectly all right as it was extra crispy, so crispy that we could eat the bones!
In the meantime, on another day last week, my missus took out her phak lor ark (braised/stewed five spice duck)…
…that she cooked for Chinese New Year but we did not take it out for the reunion dinner on the eve because my sister brought along the one from this chicken rice place in town. Actually I told her to save it for Chap Goh Meh but she said that would be too long and insisted on taking it out. She does not eat duck but my girl and I sure enjoyed it to the max and yes, I loved those stewed eggs!
Talking about Chap Goh Meh, it is just two days away and we have not decided what we would want to do for our dinner that night. What have you all got planned?