This was on Valentine's Day…
…that day when we dropped by the hypermart at one of the megamalls in town to pick up a thing or two and while we were there, we decided to stop by this place there for lunch. Unfortunately, I forgot to bring along my camera that day and I had to depend on the one in my mobile phone so do excuse the blurry and less-than-satisfactory snapshots in this post. The fact that the place wasn't exactly bright (as in the case of all their other outlets), despite it being lunchtime, sure did not help one bit…and I had to resort to using the little yellow lamp that they had on the table.
I had their mee mamak (RM10.00)…
…which I just had not too long ago because my missus wanted the char kway teow (RM10.00)…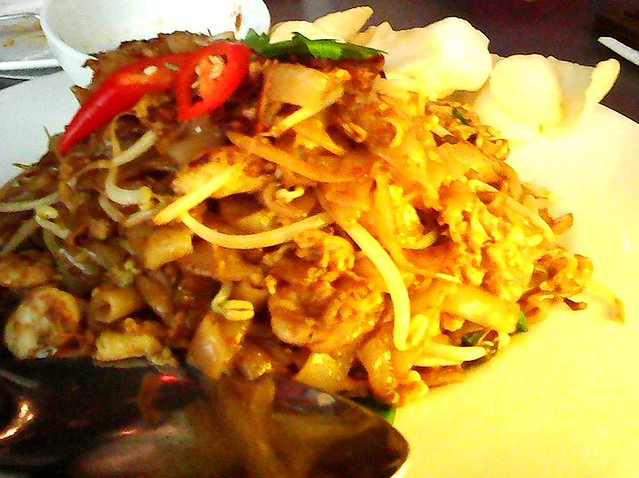 Between the two, we all thought the mee mamak was nicer but the sambal belacan that came with the kway teow was really very very good.
Gosh!!! The servings were HUGE! One would be enough for three, at least, so the two would be enough to go round for a party of six. I really do wish they would reduce the size of their servings (and charge a little less) so that diners would be able to order some other dishes and have a wider variety to enjoy. As it is, halfway through, one would be struggling to finish what's on the plate and like how the Law of Diminishing Returns works, even what seems so very nice initially would no longer be as nice in the end. As a matter of fact, my missus who absolutely loves chao chai hung ngang saw some people having it and the giant bowl in which it was served and that put her off immediately – it was so big like a basin…or I thought that was about the size of a tham phui (Victorian chamber pot)!
My girl felt like having something western so she ordered the grilled chicken with homemade brown gravy (RM18.00)…
…and she said it was nice. No, it wasn't that orange, the gravy – blame it on the camera. LOL!!!
I also ordered their turkey ham and cheese toast (RM12.00)…
…to try but no, I do feel their tuna toast is nicer and of course, we just could not eat most of it and had to tapao the rest home.
My girl insisted on picking up the tab that day. She said that it was Valentine's Day and the day is for all loved ones and she would like to give a special treat to the ones she loves. Wasn't that so very sweet of her?
Incidentally, I went out for breakfast with two of my ex-students yesterday morning but that will be in a later post on another day. Gosh!!! It's Chinese New Year's Eve today and the big day is tomorrow…and of course, many of them have come home for the festival. The two sweet boys gave me these…
– one gave me TWO big bottles of his mum's very special homemade acar (cucumber pickle) which of course, I would enjoy with my freshly-fried keropok (prawn crackers) and the other went out of his way and queued for over an hour to buy me this celebrated (some say it is the best in Singapore) airplane-brand Lim Chee Guan bak kua (barbecued meat slices). Thank you so much, boys – honestly, with such thoughtful students like you two, it sure makes it so much more worthwhile being a teacher. Thank you, thank you, thank you…