My cousin from Brisbane, Australia was in town for one night only and she brought me all these…
My girl loved the Macadamia Nut Bars that I got recently from one sweet silent reader of mine in Perth, Australia so when I heard that my cousin was coming, I asked if she could get me those…and good grief!!! She bought me one bag full! Oh dear! That must have cost a bomb! She also brought me a box of Aldi Stores' "Jumpin' Jelly" to try and Tim Tams – Adriano Zumbo's red velvet and salted caramel, no less…and the new peanut butter flavour. Yummmm!!!! My girl would be the happiest, of course, as she enjoys these so much. Personally, I have never been a fan of Tim Tams as they are too sweet for my liking and like I've been saying again and again, as I grow older, I seem to have lost that sweet tooth that I used to have when I was younger. But that did not stop me from opening one of the packs of the red velvet variety…
…to try and OMG!!! It was so so so very nice! Much as I was tempted to have another one…and another…and another, I had to resist the temptation as I was reserving them all for my girl to indulge in and enjoy back in her school for some therapeutic relief as and when the need arises plus it is not all that good for people my age, I guess everybody knows that well enough. Just one, once in a long while, should be fine.
Another cousin of mine, her sister in Bintulu, came with her and she brought me a BIG bottle of Ghee Hiang sesame oil that she had carted back all the way from Penang. Their brother and their sister-in-law from Miri were here too with two of their children but they had a prior engagement so they were not able to join us for dinner that night.
I asked them to choose the venue depending on what they would like to have and without any hesitation, they said they would like some jelly pisang (RM7.00)…
…and the uniquely-special Payung rojak (RM12.00)…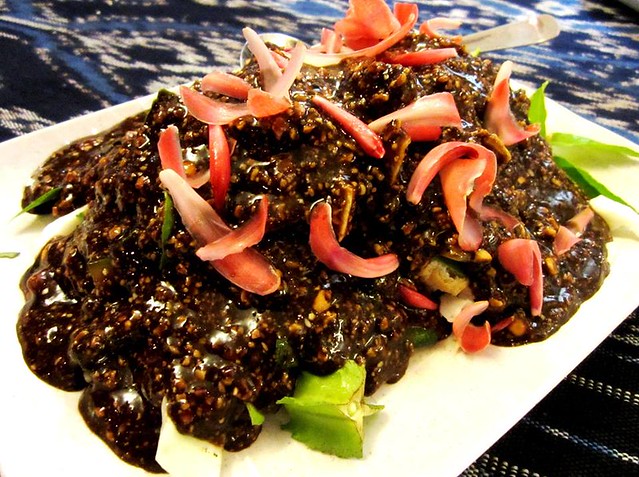 …and their mushroom roll (RM8.00)…
…that they enjoyed so very much when we had our family reunion at this place in September last year and they would love to have a go at those again this time around.
So there we were that night at this cafe in town…
…that is all too familiar now to all my regular readers.
I had their tik tek once and I loved it so much that I specially requested for that for our family reunion party there. I sure was delighted that luck was on my side that night as it was available – they had just enough left for one serving (RM8.00)…
If I'm not mistaken, this is an Indonesian dish of tapioca leaves and pumpkin…and needless to say, all of us enjoyed it to the max and licked the bowl clean. I do wish they would put that on their regular menu so that I can just drop by anytime I feel like having that.
That evening, I also ordered their kacang ma chicken (RM16.00)…
…their Bangladeshi lamb curry (RM18.00)…
…and their otak-otak (RM13.00)…
…and after all that, we were all so very full and in the end, my cousins decided that they would be able to manage one jelly pisang only between the two of them but I insisted on ordering the khalua ice cream (RM10.00)…

*Archive photo*
…as well with a special request for extra liquor. Everybody else just tried a bit and insisted that they just could not have anymore and no prize for guessing who had to finish the rest…and ended up feeling a little bit tipsy the rest of the evening! LOL!!!
An ex-student of mine happened to drop by this same place – she now owns an exclusive boutique right next to this place on the other side of the town centre…and she remarked, "You do come here often, don't you?" Oh dear!!! Maybe I should stay away for a while but like all of us that night, I do enjoy what they serve here and the people are very friendly and service is always excellent – fast and efficient…so needless to say, my cousins and my missus and I had a great time there, chatting away and enjoying our dinner, that one night on their brief stay in Sibu.
Thank you so much for the goodies, ladies – it sure was nice to see you all again.